On the occasion of New Year 2019, Saigon – Hanoi Bank (SHB) and Dai – ichi Life Insurance Vietnam Company (Dai – ichi Life Vietnam) in cooperation with Central Red Cross awarded 330 bicycles worth 550 million VND to excellent students with difficult circumstances in the Northern provinces of Vietnam.
330 new bicycles were given directly by SHB and Dai-ichi Life Vietnam to disadvantaged students in Hanoi, Quang Ninh, Hai Phong, Ha Nam, Hung Yen, Ninh Binh and Tuyen Quang. They are poor students who exerted to overcome difficulties, gained high achievements in learning, as well as participated actively in school activities.
Representatives of the school leaders, parents and students were deeply moved, thankful for the good feelings, extremely meaningful gifts of the two organizations. Being so happy when receiving a new bike, Bui Thanh Huong (Thai Long Secondary School, Tuyen Quang province) shared: "I have long dreamed of having a bicycle to go to school. Today that dream came true. I feel so happy to receive this meaningful gift."
The giving bicycles program is one of many meaningful activities in the program series "SHB – sharing love and lighting the future", which has been thoroughly implemented across SHB system over the past time. "We hope these new bicycles will help them shorten the distance from home to school, partly help relief parents and children from difficulties and at the same time motivate them to continue to strive and learn, and soon become the future owners of the country "- SHB General Director – Mr. Nguyen Van Le said.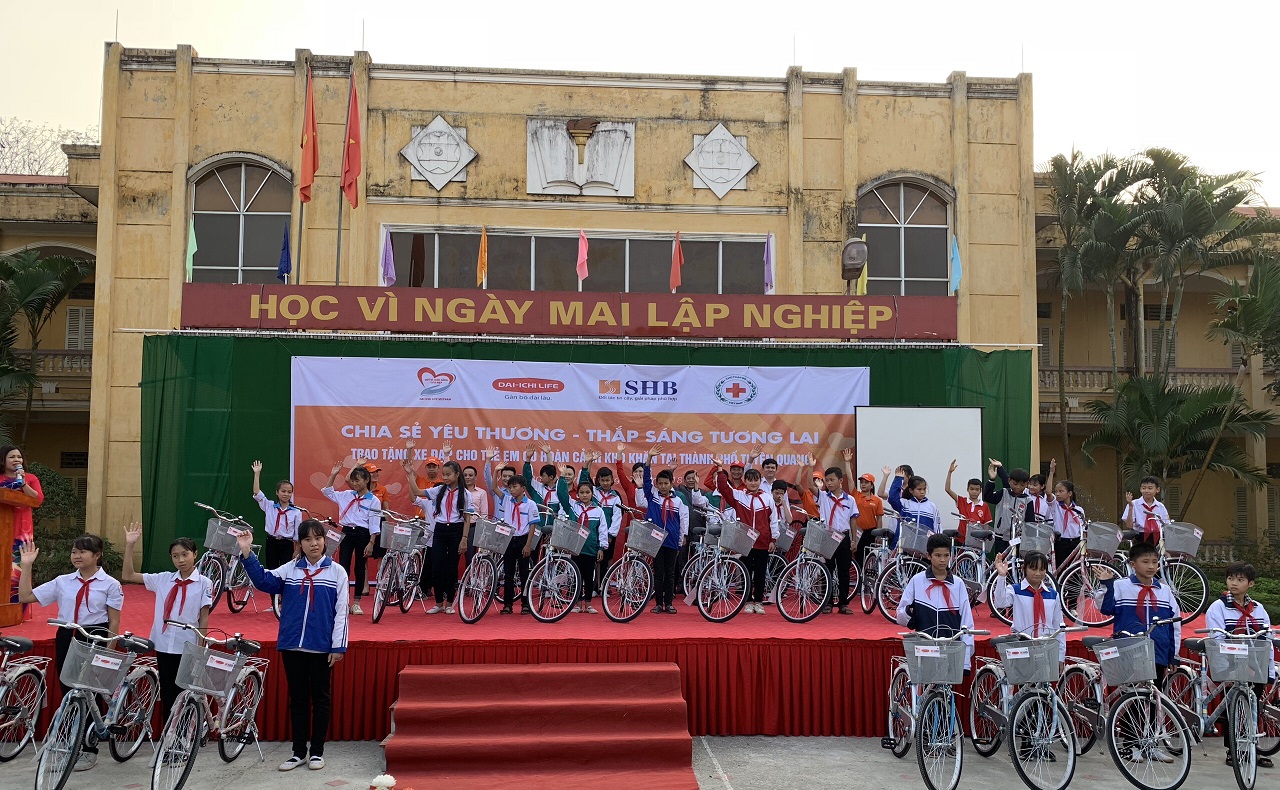 The meaningful gifts will encourage and motivate students of Thai Long Secondary School (Tuyen Quang) to continue to strive and learn.
Accompanying with SHB Bank in this meaningful event, Mr. Tran Dinh Quan – General Director of Dai-ichi Vietnam Life Insurance Company and Chairman of the Fund "For a beautiful life" shared: "We are very happy when humanitarian activities always receive support and enthusiastic participation from many employees of the company, as well as partners, including SHB. Although the bike is not a high value gift, yet from now on, the road to their class becomes more convenient, many flower rings of 10 marks will be able to bloom on the page. Our company, together with SHB want this program to continue to spread throughout the North and across the country so that more disadvantaged students will be able to come to school".
Educating, protecting and taking care of children is one among various social security areas that SHB puts focus on. Investing in young people, especially children with special difficulties, significantly contributing to the preparation and improvement of the quality of human resources to serve the country's sustainable development, and international integration. Thus, conducting social security activities for children has become one of the social responsibilities that SHB has and will be implementing in parallel with the process of developing and expanding our business.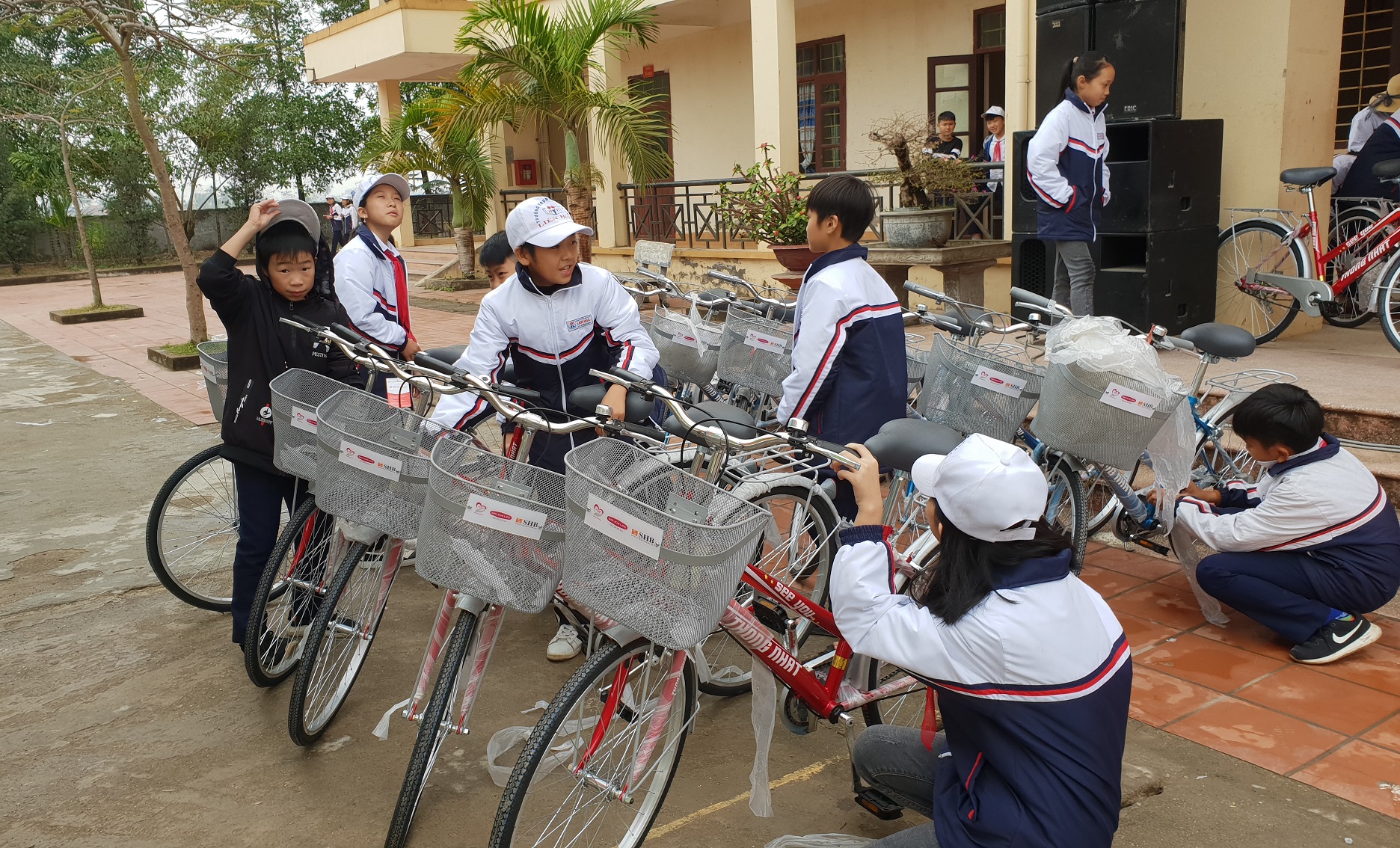 Students from Lien Hoa Secondary School (Quang Ninh) were so excited when receiving gifts from SHB and Daiichi Life Vietnam
Sharing the same humanity philosophy as a foundation for development, in the coming time, SHB and Daiichi Life Vietnam shall continuously co-operate in other activities, put effort to bring more values to the community, contribute to the economic development and social welfare of the country.
Information about SHB and the "Sharing love – Lighting the future" program:
The program "Sharing the love – lighting the future" is implemented by SHB for poor students who have exerted to overcome difficulties, and children from families that still face many difficulties in order to timely encourage and support children with good academic achievements, as well as sharing pain with children who unfortunately suffer from serious diseases.
Since June 2018, SHB has organized a nationwide program, bringing thousands of meaningful gifts and scholarships to poor students who overcome difficulties and who are unfortunately suffering and fighting against serious diseases all over the country.
Sharing love, helping people with difficult conditions is a cultural tradition that has been continuously built by SHB during its 25 years of development. During the past years, with hundreds of billion VND budget, SHB has effectively implemented several long-term social security projects as well as short-term development oriented activities from time to time.
SHB is currently one of the 5 largest private-owned jointstock commercial banks in Vietnam, Top 10 most prestigious commercial banks in Vietnam; Top 1,000 global banks … As of September 30, 2018, SHB has a chartered capital of over VND 12,000 billion, total assets of nearly VND 300,000 billion; equity capital of more than VND 23,000 billion. From a bank with only 8 staffs, 2 transaction points, SHB has grown strongly and rapidly with nearly 8,000 employees, working at more than 500 domestic and foreign transaction points, serving nearly 4 million individual and corporate customers, with connections with 400 correspondent banks across continents.
Information about Dai-ichi Vietnam Life Insurance Company:
Under Dai-ichi Life Holdings Inc. and a member of Dai-ichi Life Group, Dai-ichi Life Insurance Co., Ltd. (Dai-ichi Life Vietnam) was established in January 2007, and Vietnam is the first foreign market that Dai-ichi Life Group has an 100% owned life insurance company.
In the first 10 months of 2018, Dai-ichi Vietnam has achieved extremely impressive business results with the new business premium increased by 56% compared to the same period in 2017, the total premium revenue increased 49% compared to the same period in 2017.
On October 5, 2017, Dai-ichi Vietnam signed a 15-year exclusive insurance agency contract with SHB to bring humanity values of life insurance to many Vietnamese people.This is also an opportunity for SHB customers to have access to diversified financial protection products with many outstanding features of Dai-ichi Vietnam Insurance Company.
On 17 January 2018, BHNT Dai-ichi Vietnam Company was honored to receive the Third Class Labor Medal by Vietnam's President on the 11th anniversary of its establishment in Vietnam (January 18, 2007 – January 18, 2018), to recognize the outstanding achievements of the Company, contributing to the development of Vietnam's economy as well as contributions to the community.
Over the past 11 years, besides business activities, Dai-ichi Vietnam has proudly pioneered in initiating many meaningful social charity activities with a total contribution amount of more than VND 26 billion, such as eye surgery program for poor patients, clean drinking water programs for remote schools, rural bridges, blood donation, scholarships for poor and studious students, charity donations for families that had to suffer from floods and storms, etc. Dai-ichi Vietnam is also honored to be the only life insurance company in Vietnam to be awarded the "Enterprise with high social responsibilty" by Asia Insurance Review in 2013 and 2015. The first time in 2013 with the program "For a beautiful life" – providing clean drinking water to more than 24,000 students in rural schools in Vietnam, and the second in November 2015 with the "Million pink bricks, connecting the happy bridge" program.