On March 23, 2023, Vietnam Association of Small and Medium Enterprises (VINASME) held the 4th National Congress of Delegates (2023-2028). Mr. Do Quang Hien, Chairman of the Board of Directors of Saigon – Hanoi Bank (SHB), was elected Vice Chairman of VINASME in this new term.
The congress was attended by Deputy Prime Minister Le Minh Khai, Minister of Industry and Trade Nguyen Hong Dien, Minister of Planning and Investment Nguyen Chi Dung, Minister of Agriculture and Rural Development Le Minh Hoan, Minister of Home Affairs Pham Thi Thanh Tra, Minister of Labor, War Invalids and Social Affairs Dao Ngoc Dung, Minister of Justice Le Thanh Long, leaders of central and local ministries, and more than 400 representatives throughout the country.
Speaking at the congress, Deputy Prime Minister Le Minh Khai highly appreciated the achievements and warmly congratulated the efforts and important results of the business community, small and medium enterprises (SMEs) of Vietnam over the years.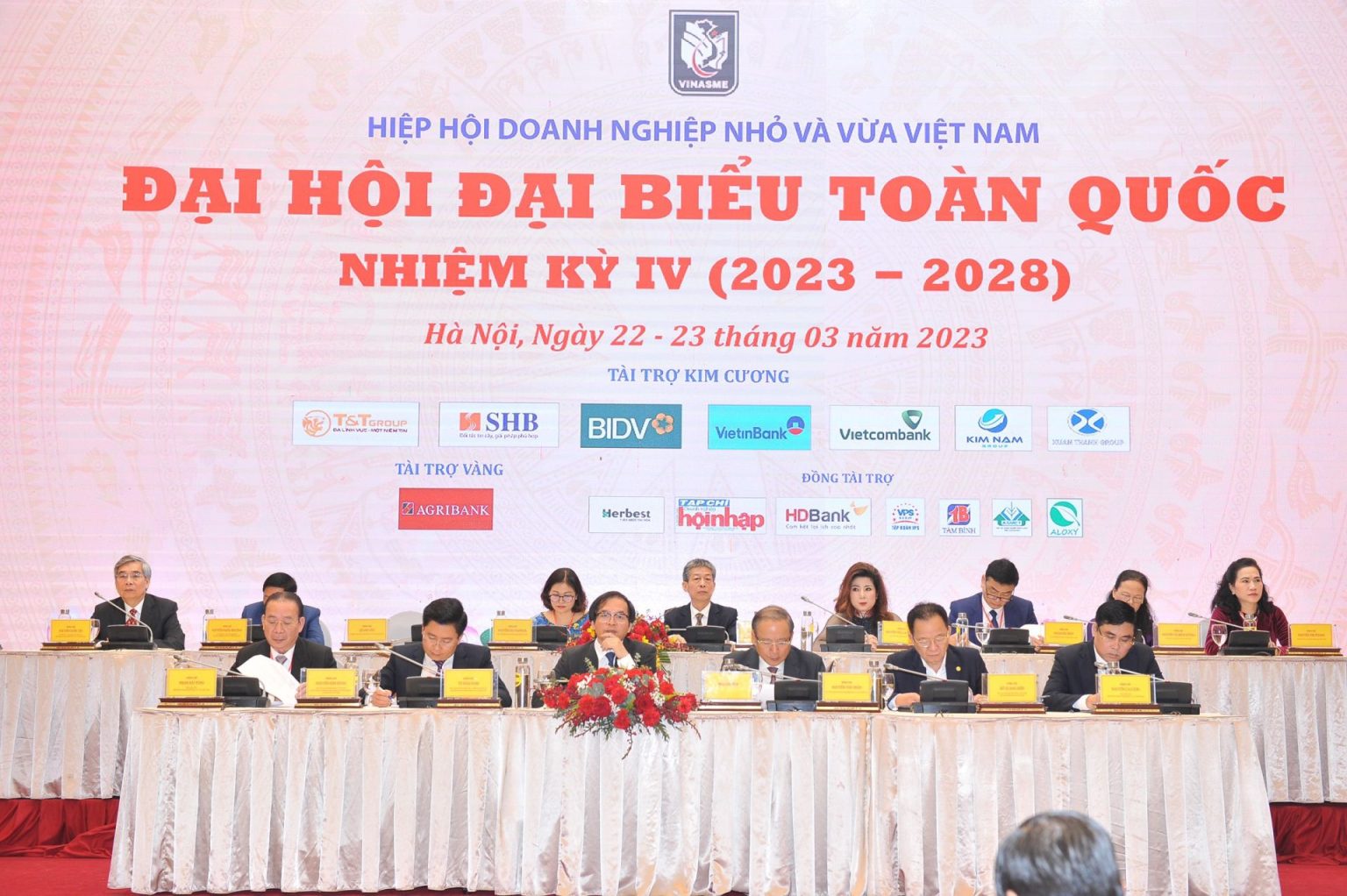 VINASME organized the 4th National Congress of Delegates (2023-2028)
Vietnam currently has nearly 900,000 operating enterprises, of which 97% are SMEs; there are about 25,000 cooperatives and more than 5 million business households. Vietnamese business community is constantly growing, improving operational efficiency, creating jobs and raising incomes for employees.
However, according to Deputy Prime Minister Le Minh Khai, in the process of development, businesses, especially the SME sector, still face many difficulties and limitations. The rate of enterprises being dissolved or stopped operating is still high; business scale is still modest; capacity in management, integration and application of science and technology is generally limited…
Faced with these difficulties and limitations, as well as in the context of the world economy's complex and unfavorable developments, Deputy Prime Minister affirmed that the Government will continue to direct research and strengthen policies, seek for solutions to support and empower entrepreneurs and the business community to develop.
Promoting the good tradition of "Dedication – Talent – Intelligence – Trust" and the results achieved, Deputy Prime Minister Le Minh Khai believes that the Vietnamese business community and entrepreneurs, including SMEs shall continue to well apply the principle "Unity – Discipline – Innovation – Creativity and Development", strive to overcome difficulties and challenges, constantly develop in size, scope, as well as improve quality, operational efficiency; thereby promote the Vietnamese business community to constantly develop, actively and effectively contribute to building a strong and prosperous Vietnam, for the people's happiness and prosperity.
Accompany the business community
The National Congress of VINASME Term IV has elected the 4th Executive Committee for the term 2023-2028, consisting of 84 members (of which the Standing Committee consists of 15 members).
Mr. Nguyen Van Than, Chairman of VINASME term III continued to be elected as Chairman of VINASME term IV. Mr. Do Quang Hien – Chairman of the Board of Directors of SHB was elected a Standing Committee member and to hold the position of Vice Chairman of the Association in this new term. Currently, Mr. Do Quang Hien is also taking on the role of Chairman of Hanoi Association of Small and Medium Enterprises (HanoiSME).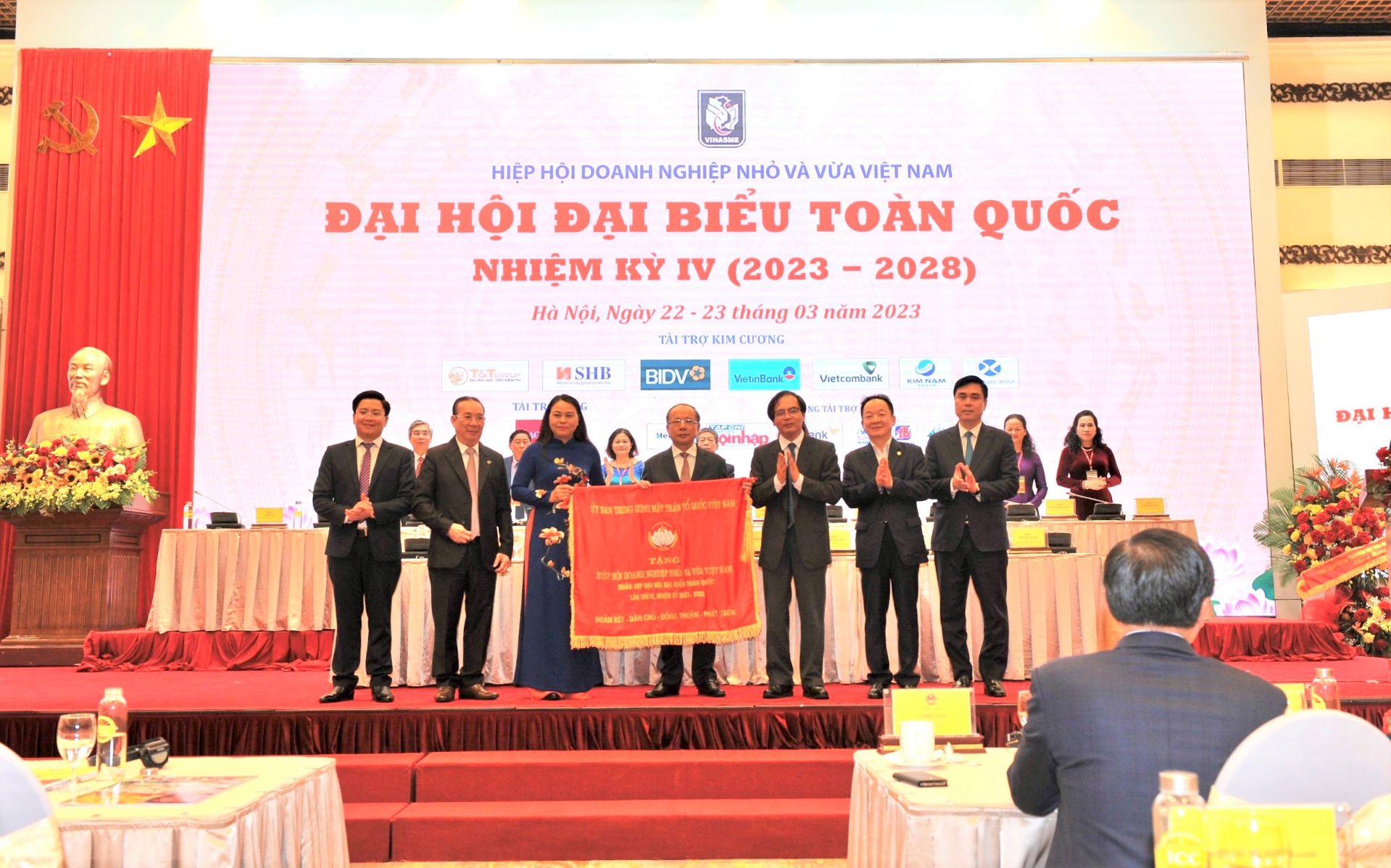 The 4th Executive Committee of the Association received Emulation Flag from the Central Committee of Vietnam Fatherland Front
Over the years, SHB and Mr. Do Quang Hien have always accompanied with the business community in general, with VINASME and HanoiSME in particular. Mr. Do Quang Hien has dedicated a lot of efforts and enthusiasm, together with SHB, built many programs and focused resources to actively support the SME customer segment. Typical examples include: efforts to improve and simplify procedures in credit development; deploy many products along with the value chain; develop specialized solutions and funding packages for each group of businesses, especially for women-owned businesses and businesses involved in supply chain financing.
Besides, SHB also cooperates with large enterprises, leading enterprises in the industry's value chain to support SMEs with market information, distribution channels, capital and technology solutions, training and guidance, improving the governance of start-ups and micro enterprises… Currently, SHB is also the leading commercial bank in green credit development in Vietnam.
In addition to financial support solutions, as Chairman of HanoiSME, Mr. Do Quang Hien has had many policies and initiatives to strengthen cooperation between Hanoi businesses and the business community across the country, as well as establishing channels of connection and cooperation with partners around the world. In which, strengthening linkages in the fields of training, coaching, skill-building, competitiveness, multilateral and bilateral cooperation programs from international trade agreements, etc. are key focus areas.
In particular, during the process of working closely with the Vietnamese business community, SHB and Mr. Do Quang Hien received strong support and encouragement from many large organizations in the world, such as WB, ADB, IFC, KfW… Through such cooperations, hundreds of millions of USD of preferential capital have been successfully connected and mobilized to contribute to promote the sustainable development of Vietnamese business community and improve operational efficiency.
Holding the position of Chairman of the Board of Directors of SHB from 2008 to now, with 39 years of experience in banking and finance, Mr. Do Quang Hien has led SHB to achieve many successes in business activities, contributing to promoting the growth of Vietnamese business community in the overall development and prosperity of the country's economy.
Up to now, after 30 years of development, SHB has affirmed its position in the Top 10 largest commercial banks and in the Top 10 most effective banks in Vietnam, as well as in the Top 5 private joint stock commercial banks with the largest charter capital in the whole banking system. In early 2023, SHB made an impressive leap, scale up 36 places in the ranking of Top 500 most valuable banking brands in the world, according to the results announced by Brand Finance.
With his successes and contributions in several fields, Mr. Do Quang Hien was awarded the First, Second and Third Class Labor Medals by the President of the Socialist Republic of Vietnam; was honored by Enterprise Asia Magazine as "2017 Asian Entrepreneur"; awarded the title of Outstanding Citizen of the Capital City in 2018 by Hanoi People's Committee; along with many other noble awards and certificates.