Saigon – Hanoi Bank (SHB) has just been honored by The Asian Banking and Finance (ABF) for 4 reputable award categories, namely: "Vietnam Domestic Trade Finance Bank of the year 2020", "Vietnam Domestic Initiative of the Year for Corporate Credit Support 2020" (wholesale banking), "Strategic Partnership of the Year 2020" and "Insurance Innovation of the Year 2020" (retail banking).  The "big win" of 4 ABF award categories this year has once again confirmed the reputation of SHB with a suitable business strategy, which always takes the customers as the focus of the Bank, expressed the trust of customers, shareholders, and partners, as well as the recognition of prestigious organizations and community for SHB.
The Asian Banking and Finance is a leading Asian magazine founded in 2008. The award categories in wholesale and retail banking opened every year by ABF are prestigious awards, and a strong recognition by experts and the community towards banks with outstanding performance by regions and nations. The jury board comprises of several experts in the field of banking and finance (representatives of all Big4 companies in the fields of audit and finance consulting in Singapore). The board highly appreciates SHB's performance based on different strict criteria, such as indicators and information on policies, capacities, size of retail and wholesale banking business, and information on initiatives, new products, ect.
Surpassed many huge competitors, in this year ABF award ceremony, SHB has won big with 4 award categories: "Vietnam Domestic Trade Finance Bank of the year 2020", "Vietnam Domestic Initiative of the Year for Corporate Credit Support 2020" (wholesale banking), "Strategic Partnership of the Year 2020"; and "Insurance Innovation of the Year 2020" (retail banking).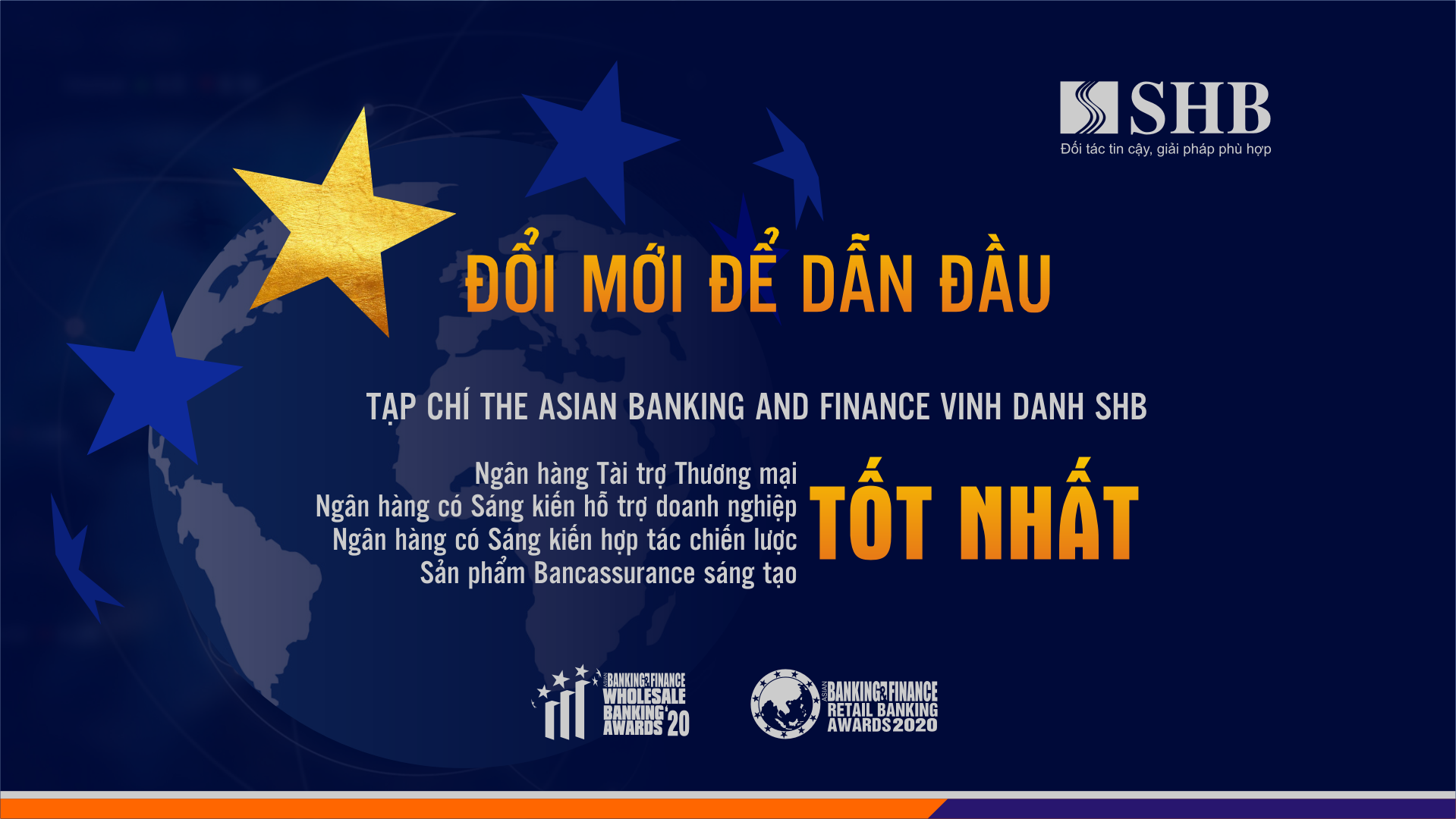 The Asian Banking and Finance Awards 2020 marked the 4th time SHB was honoured as a "Trade Finance Bank of the Year", confirmed its firm position among the top private owned banks in terms of international settlement revenue and trade finance.  In particular, the year 2019 also marked SHB's huge growth in international settlement and trade finance value by 20% compared to the previous year, from USD 3.61 bil. to USD 4.3 bil. With a network of over 500 correspondent banks on the globe, and 530 transaction points in Vietnam, Laos, and Cambodia, SHB has a great advantage in providing payment services to customers in different areas in the world. The reputation of SHB has been enhanced globally through good relationship with big partners, such as: Well Fargo NA, Bank of New York Mellon, Uni Credit, CommerzBank, Sumitomo Banking Corporation,  MUFG, Mizuho Corporate Bank, ICBC, IIB, IBEC… Thanks to such strengths, SHB has successfully performed several large value trade finance transactions of more than USD 10 bil., and supported customers with low costs and long funding period (180 days).  These figures have convinced the jury board to honour SHB with the award "Domestic Trade Finance Bank of the Year 2020".
For the award category of Domestic Initiative of the Year for Corporate Credit Support 2020″, the jury board highly appreciated SHB's VND 25,000 bil. credit package with many incentives on lending interest rates and banking service fees, especially, the Bank reduced the minimum lending interest rate by 2%/year compared to the normal interest rate in order to share with customers to overcome the difficult time of Covid-19 pandemic. In addition to the preferential interest rate packages, SHB continued to implement debt restructuring, debt rescheduling and maintenance of debt groups as well as interest and fee exemptions; reduced a minimum of 50% transaction fees paid via the electronic inter-bank payment system, exempted interbank transfer fees and a range of other transaction fees. Aiming at maintaining business continuity to serve essential needs of people during the epidemic period, SHB still ensured 24/7 smooth operation to meet all the needs of customer in the country and overseas, at the same time fully complied with Covid-19 prevention regulations. SHB 24/7 e-banking and ATM is always ready to optimize our financial efficiency, and helps customers make transactions quickly and conveniently.
In the category of "Strategic Partnership of the Year 2020", SHB gained attention with its partnership with Amazon Global Selling by providing knowledge, human resources, business networks and digital solutions. Related parties will coordinate with the Government to support small and medium enterprises to expand their business, thereby promoting the growth of Vietnamese exports. Specifically, Amazon, T&T Group and SHB will establish a chain of support centers to help Vietnamese enterprises export through e-commerce at SHB branches, initially via two centers which have been opened at Thang Long branch (Hanoi) and Saigon branch (HCMC). These centers are the support points for enterprises to access support programs from Amazon Global Selling as well as Amazon partners in the field of logistics, import and export procedures, sales account management, product promotion, branding, billing, and financial issues. SHB will also introduce suitable product and service packages for individual and corporate customers interested in selling via Amazon system.
In addition, with the An Phuc savings package, which brings many benefits to customers, SHB has surpassed several other competitors and won the category of "Insurance Innovation of the Year 2020". An Phuc savings not only helps customers secure assets and earn attractive profits at competitive interest rates, but also protects customers' health with several benefits, such as Universal Accident Insurance, Critical Illness Insurance, and Health Care Insurance, etc. Especially, customers can flexibly transfer these benefits to family, relatives and friends.
Mr. Nguyen Van Le – CEO of SHB said: "Being honoured in 4 prestigious award categories from ABF Magazine for both retail and wholesale banking has once again confirmed SHB's success in business operations with a customer-centricity philosophy. The Bank are always ready to accompany and innovate to bring maximum benefit to customers".
Previously, for several consecutive years, SHB has been honoured by ABF in many prestigious award categories, such as: Project Finance Bank of the Year, Trade Finance Bank of the Year, Best SME Bank, Mortgage and Home Loan Product of the Year, Automobile Lending Product of the Year and Credit Card Initiative of the Year… Especially for the award category of "Trade Finance Bank of the Year", SHB was also honoured for the 3rd time in a row by Alpha Southeast Asia Magazine. By repeatedly winning these awards, SHB has confirmed its reputation and firm position in the community, towards customers and experts.